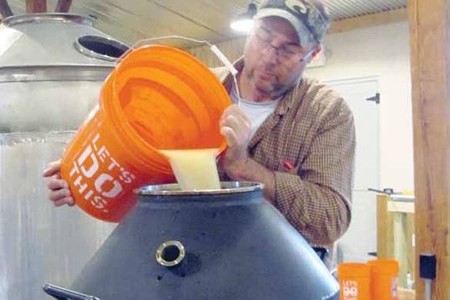 Robert Bondurant kept one eye on the proof hydrometer and another on the still's thermometer last week as the first batch of moonshine cooked at the new Bondurant Brothers Distillery in Chase City.
The distillery has two stills, a 550 gallon still for production runs and a smaller 45 gallon still for samples, smaller batches and specialty runs. This first batch was being produced in the smaller still as a test run, just to make sure everything was work- ing properly and that fin- ished product was up to the "Bondurant standard."
At around 2:00 p.m. on Thursday of last week, he loaded the still with mash, turned on the heat and waited. Patience, he explained, is one of the most important ingredients to making good moonshine.
It took most of the after- noon for the mash to cook and shortly before 6:00 p.m., the "thump barrel" began making the sound that signals the run is starting. At exactly 6:05 p.m. the clear moonshine began to trickle from the still.
Initial tests were encouraging. Proof and flavor were dead on the money and by 10:00 p.m., the run was finished, the moonshine proofed and bottled, labels were applied and the bottles were sealed by hand.
The first run of shine at the Bondurant Brothers Distillery was a success. It's been a long haul for Bondurant.
"I have been talking about it for a while, but I sold the store and went to work full time on the distillery in October 2014," said Bondurant this week.
For full story please see the December 9, issue of The News-Progress or subscribe to their print and e-edition.